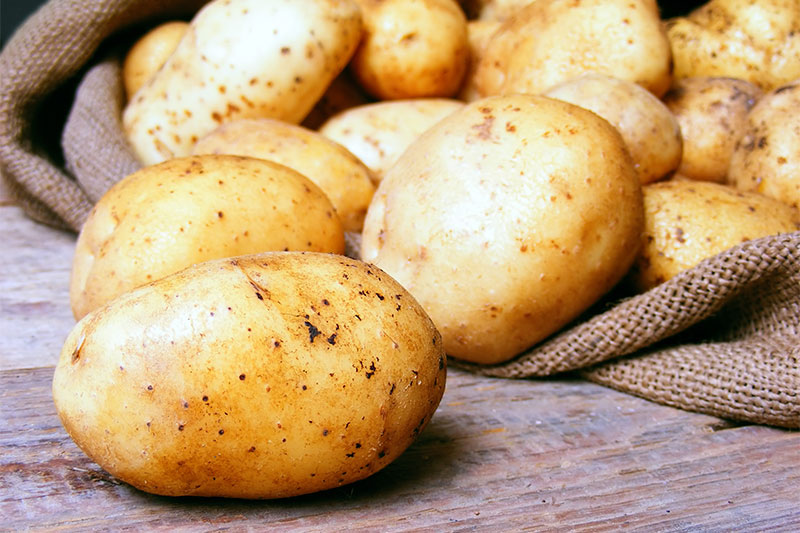 You buy a bag of potatoes and you end up forgetting that they are in the pantry taking up space. We are all guilty of that and that is not your fault. Or, you end up using the potatoes but because the bag is so large, you can only use so many potatoes at a time. What happens to potatoes when you leave them in the pantry or even elsewhere for a long time? They grow ears or grow sprouts and they may develop some green spots. However, you shrug and think the potato is just fine as long as you peel them away.
However, that is something you should not do. There is a time when tossing the potato away is the best thing to do. If that even means wasting an entire bag of potatoes that did not get eaten during a certain timeframe, then that is what you need to do. You can cut away the unsavory parts but that will not save the rest of the potato as if there is only one unsavory part, then the entire potato is no good to eat. It can be flat-out dangerous. That means if the potato has green spots, it is time to toss the entire potato away.
Experts Warn The Green Spots On The Potato Are Dangerous To Eat
You may have eaten potatoes that are somewhat green and you may have been fine. However, consider yourself lucky if that is the case. Potatoes do produce chlorophyll which is how they begin turning green. That is not the dangerous aspect as chlorophyll is in most vegetables and has many health benefits. However, what makes the potato turning green dangerous is when it starts producing a compound known as solanine which happens as the potato turns green as well.
Solanine is a toxic substance as it naturally protects against damage from insects, fungi, bacteria, and animals. This toxin is found in very low levels in other nightshades such as eggplants and tomatoes. It is not a surprise that potatoes fall into the nightshade category as well. Low levels of solanine can not have a significant impact on you only if the levels are kept very low. However, some people may have sensitivities to even the lowest levels of solanine which can result in allergy-like symptoms and it can also potentially worsen arthritic symptoms, but there need to be more sources on that.
What is the issue then if you cut away the green spots? You would think that the solanine would end up in just that area, however, the entire potato has solanine in it as it may develop in those green spots. However, it permeates throughout the entire potato. That is the problem. That is what makes eating a potato with green spots dangerous. Peeling a potato with green spots also will not help keep the potato salvageable. You need to toss it out because you are at risk of ending up with solanine poisoning if you eat it.
What Are The Signs Of Solanine Poisoning?
Experts are not sure the levels of solanine need to be in order to be toxic. However, if you are showing signs of sickness characterized by headache, fever, nausea, stomach pain, pain in the abdomen, slow pulse, slow breathing, and diarrhea, then you could have solanine poisoning. You need to immediately get immediate help so you can get the antidote for it. If you leave it too long, you could end up developing paralysis, breathing problems, convulsions, or you could go into a coma and death can also result in extreme cases. That is why you do not want to take a chance on eating a potato with green spots!