Everyone loses hair as they age, and once women go through menopause, female pattern hair loss can happen due to the loss of estrogen which is also why heart attacks are more likely to happen at that stage for women too. The estrogen protects the heart and hair. And there is nothing you can do to prevent hair loss whether you are a man or a woman, after menopause, of course. Genetics and other hormonal imbalances can be to blame as well. However, there is something you can do to help delay hair loss and to minimize it as well. That depends on your diet. If you are eating one type of food, then you are going to accelerate hair loss. What food would that be?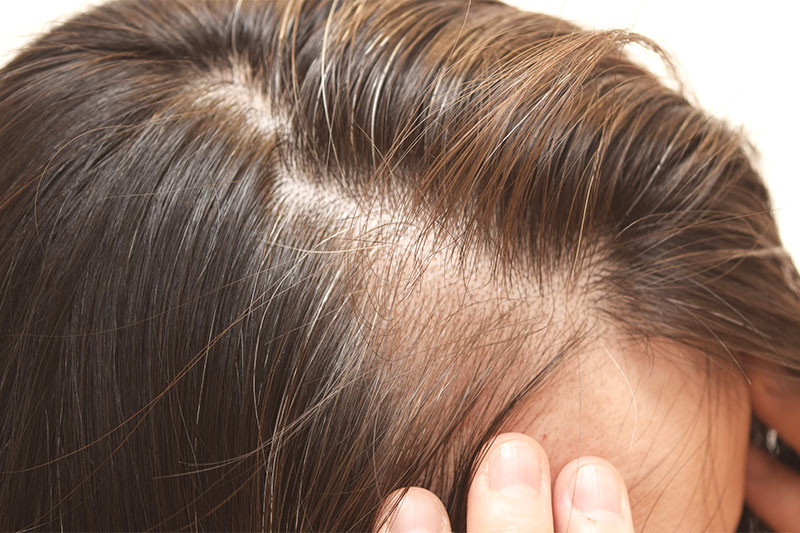 Fatty Foods Will Increase Your Chances Of Losing Hair
If you are eating foods that are high in trans fats and saturated fats such as French fries, onion rings, fried chicken, fatty cuts of meat, then you are going to increase the chances of your hair thinning and falling out. Now, that does not mean you cannot enjoy those things in moderation, but if you eat too much of it, then you are risking your chances of hair thinning. But when it comes to good fats that you get from fish such as salmon, avocado, nuts, eggs, and seeds, keep eating those because those foods are good for you. They are good for hormones and can be helpful to your hair. It is the foods that are full of trans fats and foods that are heavily saturated in fat that are the culprit.
Once again, if you enjoy a plate of wings once a month or even once a week assuming you don't eat anything else fatty, you will not likely affect your hormones for the rare time. However, the bad fats will end up disrupting your hormones.
Bad Fats Can Cause Hormone Imbalances And That Can Impact The Hair Growth Cycle
You have to remember that your hair goes through a growth cycle and it sheds hair and then begins to replenish which is why when you take a shower, you will see strands of hair in the drain when you are not losing hair. That is normal. When your hair grows the follicle stem cells activate themselves so they can replenish the hair as they replace the strands that you shed. However, once you age, you will lose more hair and your hair follicles may not activate themselves to replenish as quickly. That is normal with aging, but you will accelerate that issue if you eat a poor diet.
What Other Foods Could Be The Culprit For Premature Hair Loss?
You know that fatty foods are bad for your hormones such as anything that is fried, but you want to limit processed foods such as cakes, pastries, refined sugar, and foods with plenty of additives. You will want to replace those foods with beans, legumes, vegetables, fruits, whole grains, and lean meats, and definitely stick to foods with good fats. They are there to help keep your hormones as regulated as possible and will help you maintain a normal hair growth cycle. Again, you cannot change genetics and aging which will in the end cause hair loss, but why accelerate that by eating an unhealthy diet. The added bonus of changing the foods you eat for the better is that you can help stave off obesity which means you can help stave off other illnesses such as diabetes, heart disease, hypertension, and reduce the risk of developing certain cancers. Diet is everything and you want to maximize your health by eating the right foods.