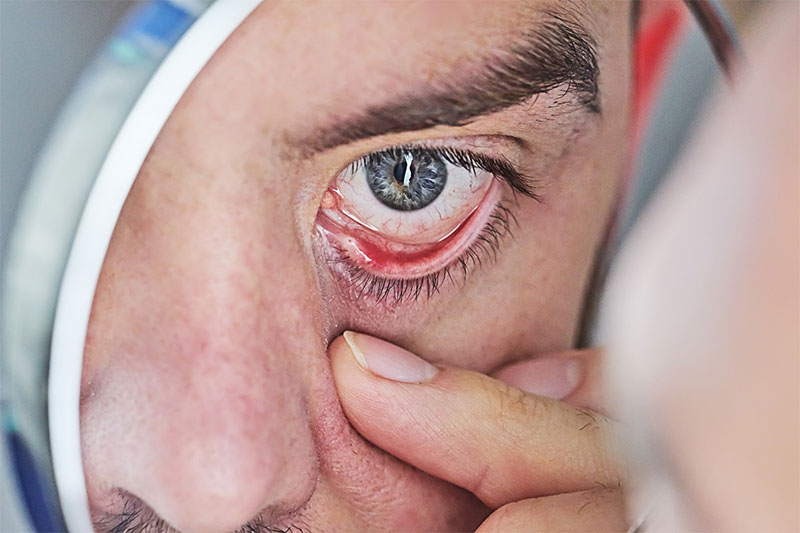 You will want to keep your eyes protected because you value your vision and your overall eye health. Not to mention, you want to stay comfortable. However, you may not know about any eye health issues you have if you do not regularly go to the eye doctor. If you constantly have dry eyes, they may be uncomfortable and you may not think anything of it. It may seem like an issue that you would slough off because how could dry eyes be a sign of anything more serious? However, if you do not treat them, it can cause many different serious issues.
And experts are warning you of one bad habit that you have in the bathroom that could cause your eyes to dry out. And this is a habit that you may be doing every day and not realizing that being the case.
If You Have Dry Eyes, Be On The Lookout For The Following Symptoms
Dry eyes can cause you to have a light sensitivity as well as a burning or stinging feeling, as well as stringy mucous. And you may even feel as if you have something like an eyelash or a sand grain stuck in your eye even if there aren't any of that. And if you wear contact lenses, you may find that they are difficult to wear because of eye discomfort.
Another thing about dry eyes is that you may find yourself rubbing them often and even though it helps with tear stimulation, it will keep your eyes irritated. Now, let's talk about one very common bathroom habit that can cause your eyes to become dry.
Blowdrying Your Hair Can Cause Dry Eyes
If you hop into the shower right away and wash up quickly because you have to be somewhere fast, and you wanted to be clean, you will understandably blowdry your hair. Or, you may shower daily and blowdry your hair even if you are not in a rush to go anywhere. You don't want to have wet hair, so blowdrying is the best option. But it is not the best option for your eyes.
When you use the blowdryer, you are allowing the heat and airflow into your eyes, and the heat will cause your tears to evaporate. Or, if you have an eye condition that can cause your eyes to get dry such as Sjogren's Syndrome, you are increasing the irritation.
That is why the best thing you can do is avoid allowing the air to flow into your eyes if you are blowdrying. Or, even if you are near fans or air conditioners, you will want to avoid going near them because they will cause dryness. How can you protect your eyes while blowdrying? You will need to wear goggles. That is the best way to protect your eyes while blowdrying your hair. Glasses or sunglasses are not as effective because the air can still get into your eyes. Goggles are the best option that you can utilize if you need to blowdry your hair.
If Your Eyes Are Still Dry After Protecting Them, Go See Your Doctor
If you struggle with dry eyes even after protecting them when blowdrying, then you will need to see your doctor. Also, bear in mind some medications can cause dry eyes to develop such as antihistamines, antidepressants, acne medication, blood pressure medication, medication for Parkinson's disease, and birth control. If you are on any of those medications, then you will want to ensure that you keep your eyes as protected as you possibly can. And once again, head over to the doctor if your eyes are becoming drier regardless of how you are caring for them as something serious could be happening with your health.