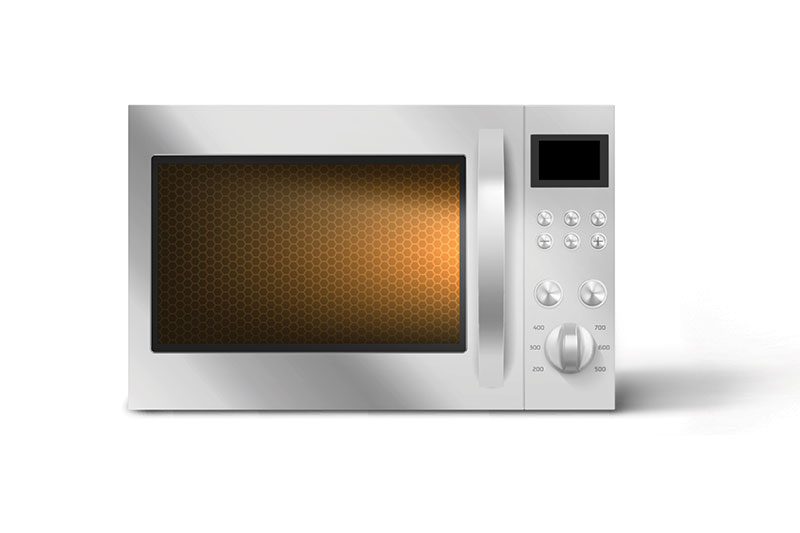 Microwaves have become an essential part of modern kitchens, but have you ever wondered why they have a metal mesh screen on the window instead of clear glass? The answer lies in the safety measures designed to protect you from the harmful microwaves they emit.
Microwave ovens generate microwaves to heat food by causing water molecules to vibrate rapidly, producing heat through friction. However, these microwaves can also harm humans if we are exposed to them directly. To ensure our safety, microwave ovens are designed with a metal mesh screen on the window. The holes in the mesh are large enough for our eyes to see through, allowing us to check on our food, but small enough to block the harmful microwaves from escaping the oven.
The metal mesh acts as a Faraday cage that blocks electromagnetic radiation, including microwaves. The principle behind a Faraday cage is that when an external electric field (in this case, microwaves) encounters a conductive material like the metal mesh, it creates an electric current that cancels out the field inside the cage. By incorporating the mesh screen into the design of the microwave oven, manufacturers can ensure that harmful microwaves do not escape and pose a risk to users.
If microwave ovens had clear glass windows, there would be no barrier to prevent the microwaves from escaping, potentially causing harm to those standing nearby. Therefore, the metal mesh screen is a crucial safety feature that helps protect us from the potentially harmful effects of microwave radiation.
Next time you use your microwave oven, take a moment to appreciate the metal mesh screen that keeps you safe from harm and remember that this seemingly simple design feature plays a crucial role in protecting your health.