Why is it that the tastiest foods around are also terrible for our health? And when it comes to restaurant food, appetizers are often the most dangerous. Think fried finger food, cheesy sauces, lots of oil and salt.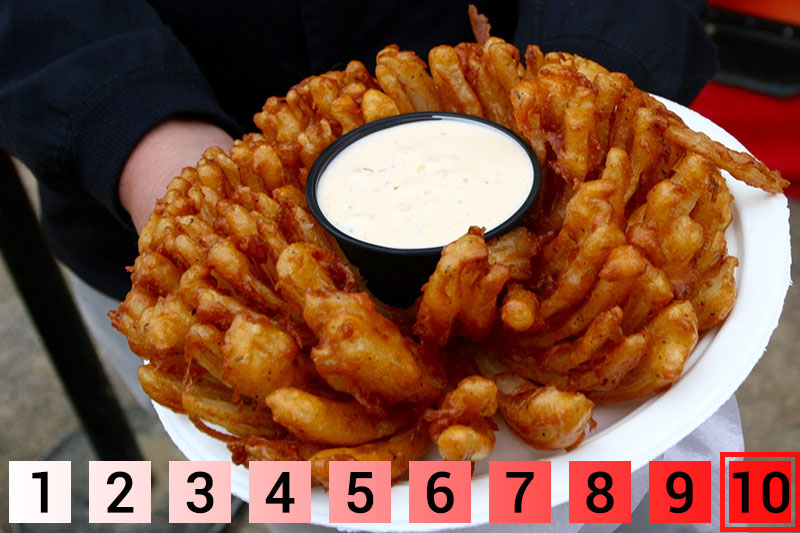 If you really want to stay healthy, then stay out of trouble – and greasy and salty restaurant food is big-deal troubling. Most foods in moderation are not so bad as long as you enjoy them within a healthy diet and you stay active, but some foods should be avoided anyhow, mainly because appetizers keep on growing in size every day!
These are the 12 unhealthiest restaurant appetizers in America — ranked!
Buffalo wings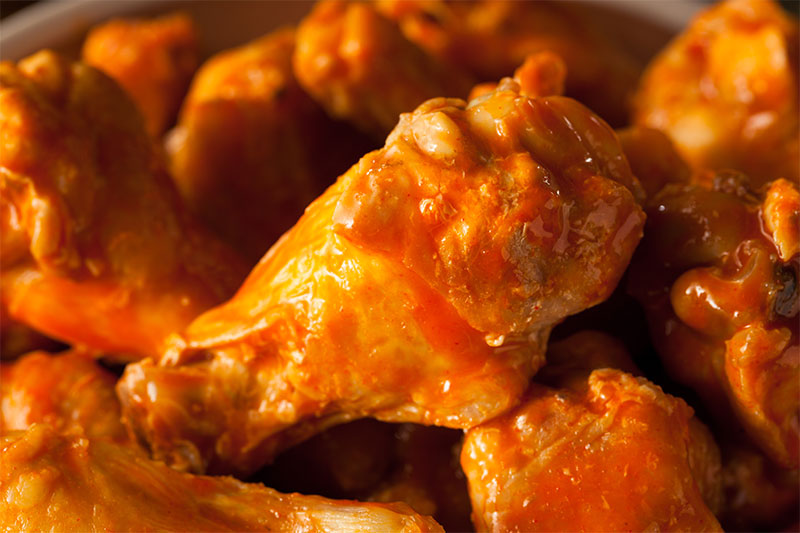 The problem with buffalo wings is that we eat a ton of them. If you were to eat two or three wings, this appetizer wouldn't actually be that bad. Yes, they're oily and starchy, but there's some nutrition in the white mat. Spicy sauces, although loaded with salt, have capsaicin, the spicy compound in hot peppers, which is good for you.
Things go wrong when you consider the dip. Buffalo Wild Wings, for example, offers a spinach artichoke dip that alone has 1,460 calories.
Cheeseburger Sliders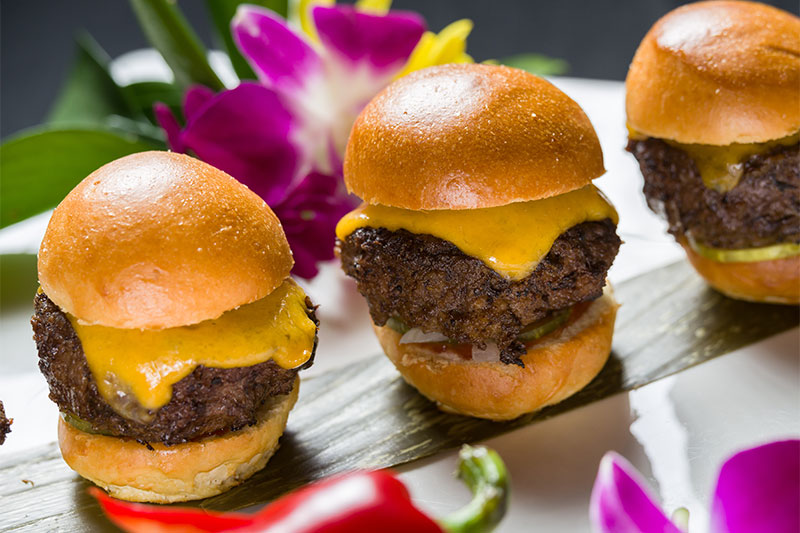 McDonald's cheeseburgers are kids' meals, but we all know they're also extra orders and appetizers for grownups. That's why many chains now offer a trio of cheeseburgers as an appetizer. Well, that trio costs you over 1200 calories and almost 800 mg of salt. To make things worse, cheeseburgers are not even made with quality ingredients, so add tons of trans fats and preservatives to your list of things to worry about.
Mac and Cheese Bites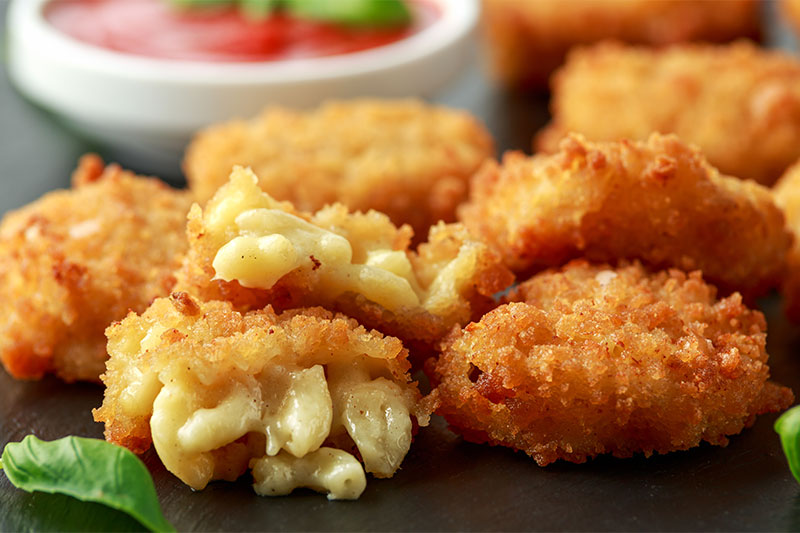 You'll find these in Outback Steakhouse, but they're becoming increasingly common. Again, it's lots of starch, and too many trans fats. This all translates into 770 calories, with 54 grams of fat, 47 grams of carbs and whopping 1,250 milligrams of sodium. These are quite unhealthy for another reason. We think it's just mac and cheese, so we get these for our fat little kids, and that's scary.
Fried Calamari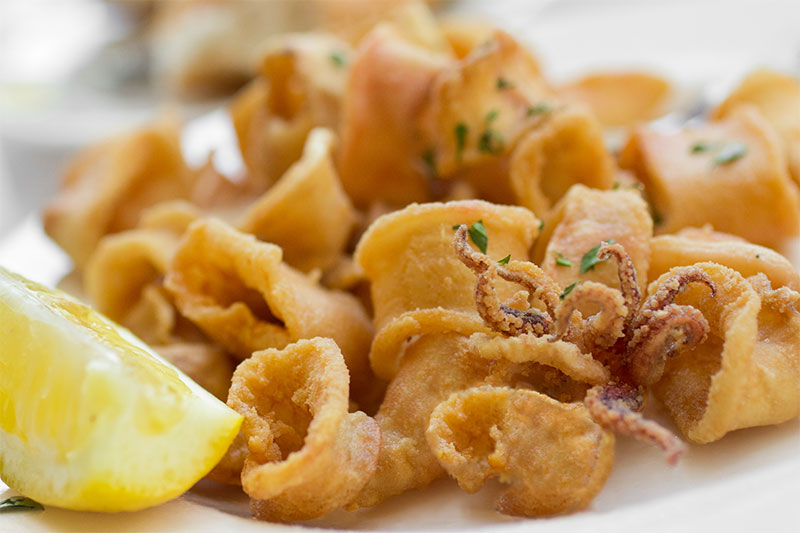 You'll find this sea-scented treats at Red Lobster and many other Italian-American seafood and pasta restaurants. I know they sound healthy, adding seafood to your diet is actually not a bad idea, but fried calamari definitely aren't that healthy. If there's a lesson to be learned here is to avoid deep-fried appetizers. Fried calamari have 1650 calories and 4170 milligrams of sodium, that's a whole teaspoon of salt. On top of that, there's all the grease, oil and fat.
Loaded Potatoes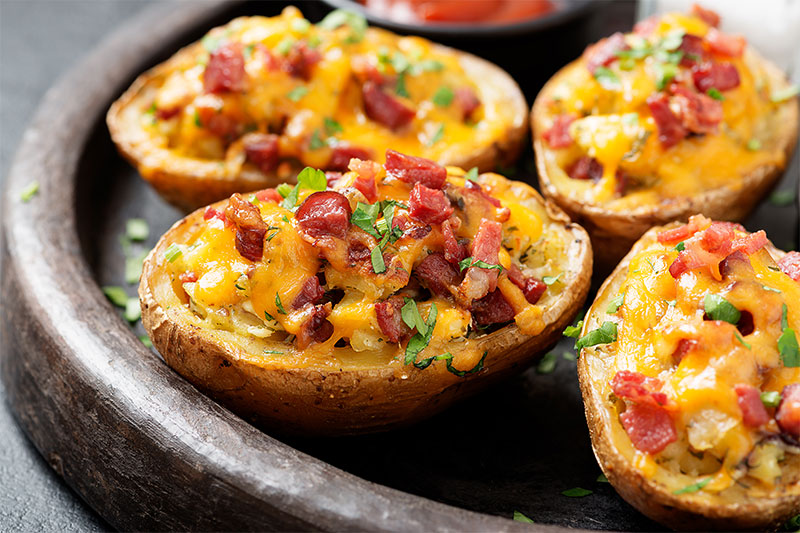 We agree there are few things more filling and satisfying than a properly loaded potato, but these are literally bombs for your body. Eating a whole potato will give you energy for the entire day, but If you don't use that energy, it will become belly fat. Then you have the bacon, the sour cream and the cheese, it all adds up.
If you want to enjoy baked a potato, share it with someone, that way you satisfy your starchy craving but split the guilt.
Mozzarella sticks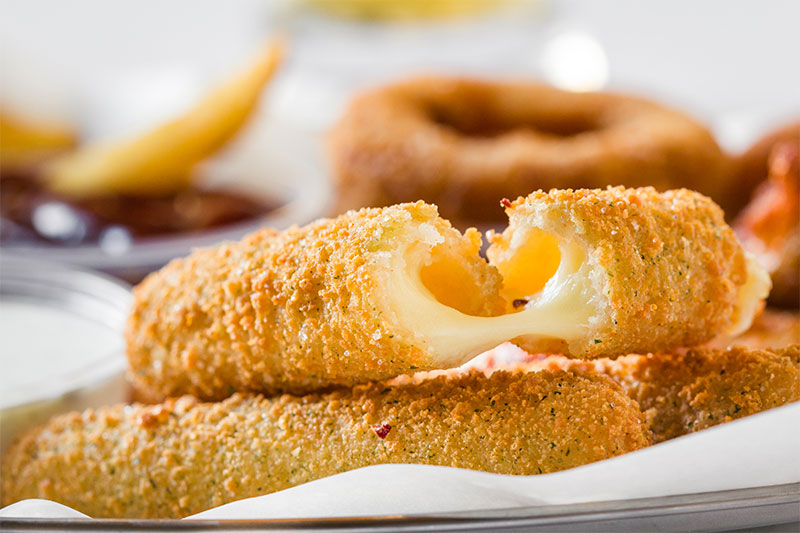 Mozzarella sticks are a bit worse than fries; they share the same health risks, including the massive amount of oil and starch, but are even fattier. A regular mozzarella order has 930 calories, that's half the energy you require for the day. Adding insult to injury, there's the dip or the marinara sauce, and that's added calories and salt.
Loaded Chili Fries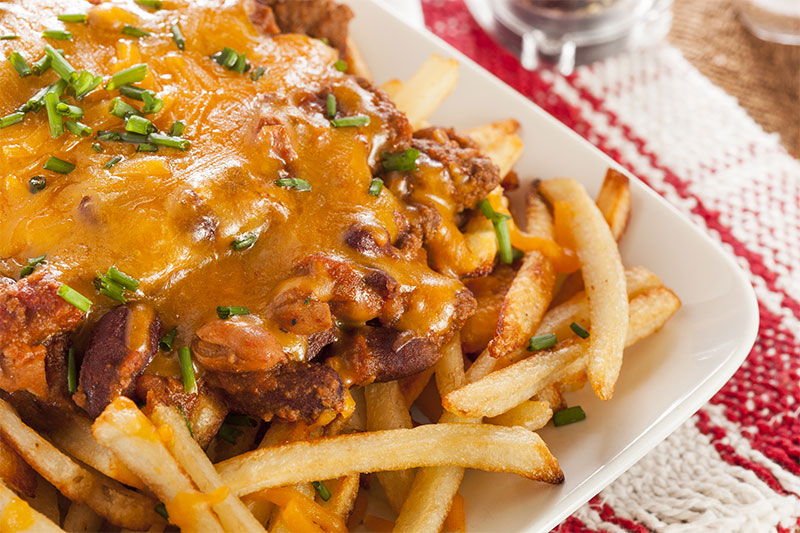 If fries are number eleven on our list, loaded chilli fries jump all the way to fourth place. For starters, loaded fries are more substantial than a medium order of fries. Then you have the cheese and the processed meat in the chilli, you didn't think you were getting premium beef there, were you? This a popular appetizer at Chili's and Red Robbins. Every restaurant seems to want to add more and more calories and fats to their versions.
Loaded Nachos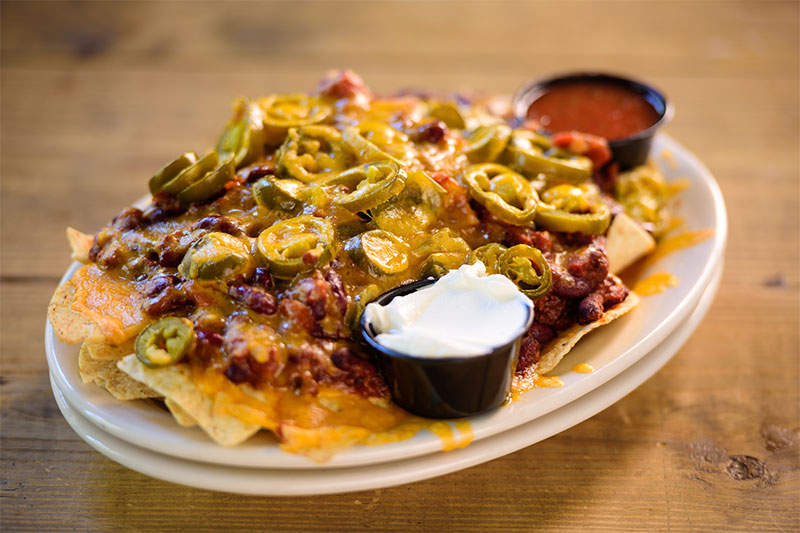 Regular nachos are not so wicked, no one has ever died from a fistful of tortilla chips. When loaded, things can go bad quickly. An average appetizer of loaded nachos can add to your diet 1680 calories, Applebee's Salsa Verde Beef Nachos carries 1,750 calories, and the Cheesecake Factory nachos an impressive 2,670 calories. You would have to share these with at least three people to counter all those extra calories.
Chicken Nuggets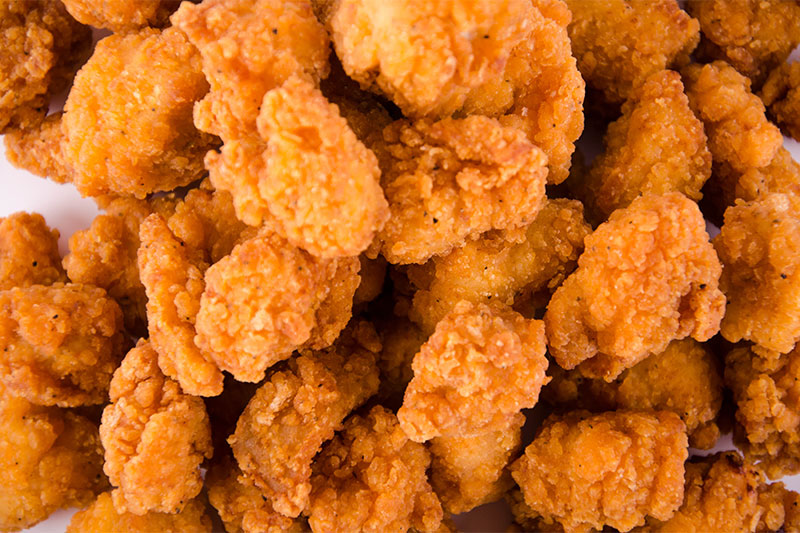 Chicken nuggets are one of the most famous and tastiest appetizers; you'll find them everywhere, in most fast-food restaurants and regular restaurants too. Many things are wrong with these one-biters, though.
First, there's very little chicken in them; they're mostly fat and starch. Second, they're fried, making nuggets not only unhealthy but dangerous. 10 chicken nuggets add 480 calories to your diet, 284 of them coming from fat. There are 70ml of cholesterol in these, and whopping 900mg of sodium.
French fries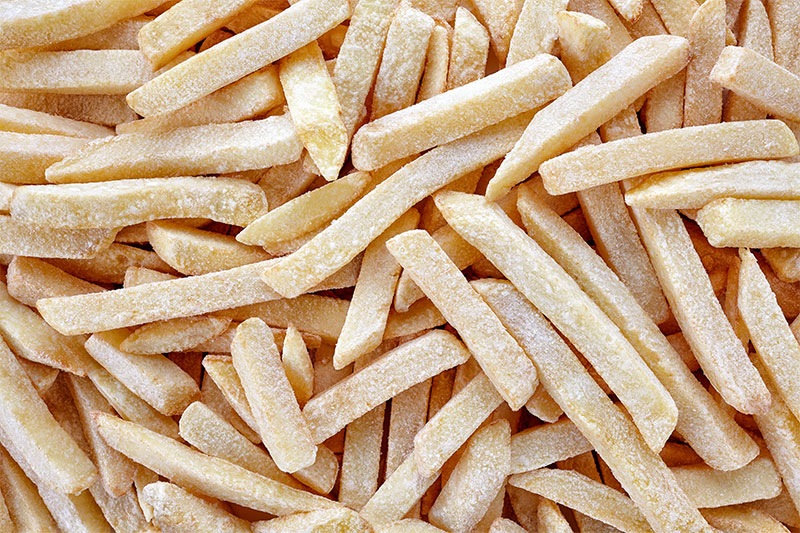 Fries are as ubiquitous as nuggets; there's almost no restaurant on earth where you can't order them. Sadly, a medium portion of fries adds 340 calories to your diet and they're swimming in trans and saturated fats. To be completely honest, there's not one nutritional benefit in fries; it's all starch and fat.
Lasagna Fritta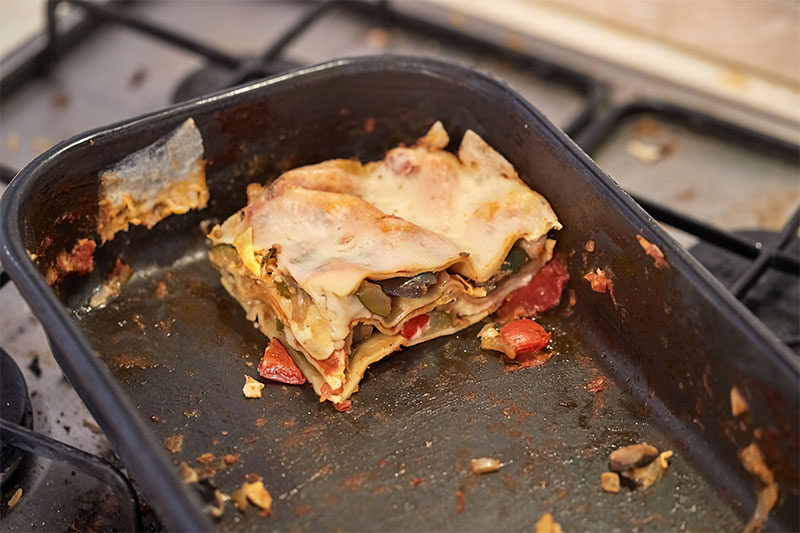 Why ruin a classic, making it unhealthy and artery-cloying? A moderate piece of lasagna is a beautiful and even healthy meal. Olive Garden's fried lasagna, which you can now find in many other restaurants, is saturated with harmful oils and adds an impressive 1,070 calories to your diet, that's half you need for the day, and this is only an appetizer.
Blossom Fried Onions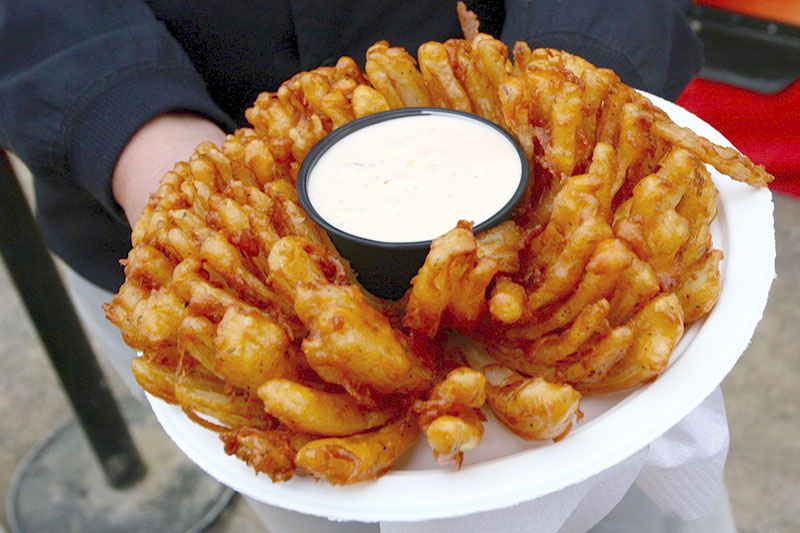 How can a vegetable be the unhealthiest appetizer in America? Only in America can we take a perfectly nutritious onion and turn it into a carb bomb with up to 4000mg of salt which is almost a teaspoon. And 1900 calories in a single onion. You'll find this specialty in many BBQ restaurants like the Texas Roadhouse. Who knew onions could be silent killers?
There's a Message Here
If you see the unhealthy appetizers above, you've probably figured out what to avoid. Fried food has lots of trans fats and saturated fats. Sodium is responsible for most cases of heart disease in America, and too many calories become body fat unless you run a marathon after lunch.
Eat better, take care of yourself and be happier. Avoid these tasty and unhealthy appetizers today. We never said it would be easy!