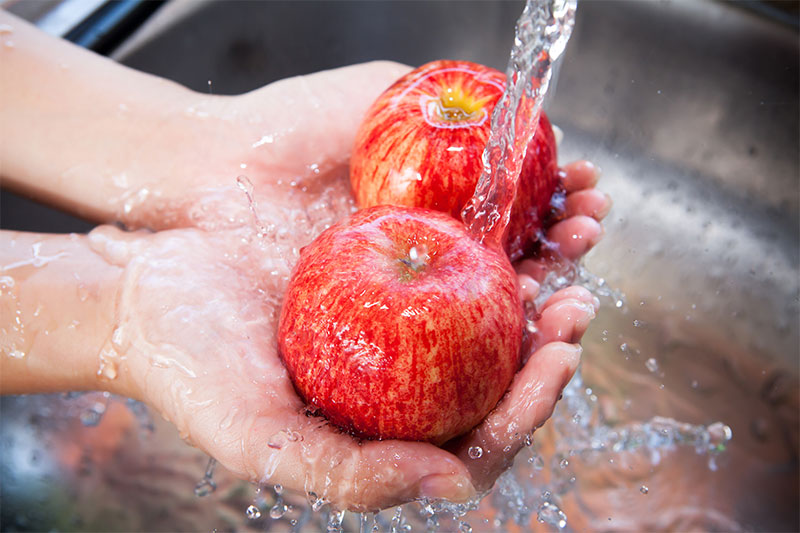 When you are looking to change your diet for the better, you are wanting to incorporate fruits and vegetables into your diet because they are low in calories and fat, and are healthy for you. Vegetables and fruits are full of nutrients and fiber that keep you full from snacking too much in between meals. Therefore, that is why whenever anyone starts a lifestyle change or a change of diet alone, they do what they can to incorporate more fruits and vegetables into their daily meal plans. However, there is one serious problem with what they do before they eat their fruits and vegetables. This mistake that people make with their fruits and vegetables puts them at risk for serious disease according to the Centers for Disease Control and Prevention which is the CDC. The mistake that they are making with their fruits and vegetables is causing them to become laid up in bed with serious illnesses.
What is the mistake these people are making with their fruits and vegetables that are causing them to get sick? They are peeling their fruits and vegetables before washing them. While you may be looking forward to enjoying your fruits and vegetables immediately, you do not want to peel them before washing them. You need to wash them before you peel them. That is because if you peel your fruits or vegetables without washing them, you are transferring bacteria and other harmful microbes onto the flesh of your superfoods.
You may think that meat that is not properly cooked through is the main cause of food poisoning and it is a significant cause. However, produce that is not thoroughly cleaned is also a significant cause of food poisoning. Even though fruits and vegetables are healthy, they are also dangerous if they are not prepared the right way.
Produce Can Be Dangerous To Your Health If You Don't Prepare Them Correctly
Unfortunately, that is not the news that you would want to hear since you know that the reputation of fruits and vegetables is that they are so good for you and help reduce the risk of diseases such as diabetes, high blood pressure, certain cancers, and so much more. However, how can something be healthy for you if they are known to cause food poisoning? That is why you have to make sure that you prepare these foods correctly. Fruits and vegetables can be sources of Listeria, E. Coli, and Salmonella.
Therefore, when you peel before washing, you are taking a chance on the flesh of the fruit is contaminated with any of those harmful pathogens as hundreds of people die from them each year in the USA. You will also want to realize that the way you clean your fruits and vegetables is also important to know because certain cleaning methods can be harmful instead of helpful.
You Have To Be Careful With How You Clean Your Fruits And Vegetables
It is a good idea to wash your produce under running water and you can use a clean brush as you do that. That will be enough to remove harmful pathogens. But if you are using soap or any detergent, you will want to stop. That is because the peels of fruit are porous which means the elements of soap and detergent will seep onto the flesh. Therefore that will make you sick too.
You will also want to avoid eating bruised or discolored parts of fruits after washing them because those parts of the fruits are spoiling. Therefore, the best thing to do is to cut those pieces away as you enjoy eating the rest of your fruits and vegetables and reaping their benefits.