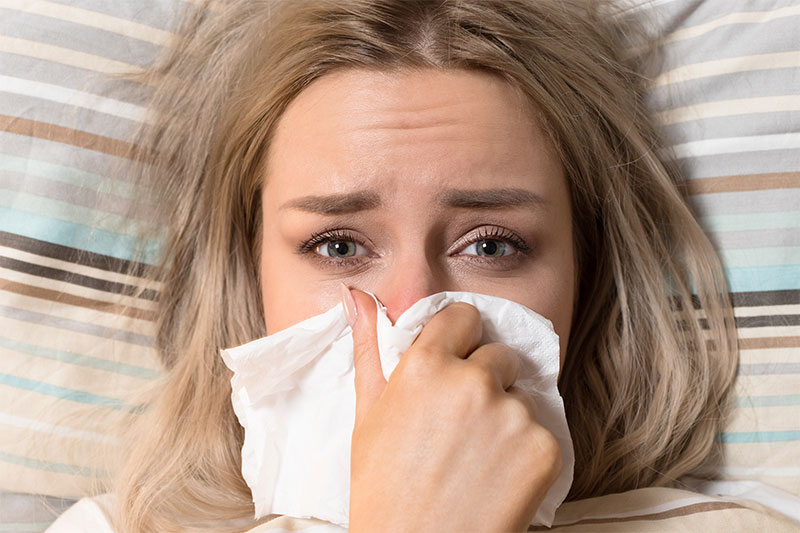 Nothing is worse than having a stuffed-up nose when you have a cold when you are attempting to get on with your day whether you are working or you are trying to enjoy some time off. You don't like the idea of taking a decongestant because it does not get rid of your cold and it also may even cause it to linger on longer as it suppresses it. A cold will clear when it is meant to clear. However, it means as well that you will want to keep your nose unblocked.
By the way, having a clogged-up nose does not mean there is too much mucus, but it is the result of the vessels in the nose and sinuses being inflamed. The good news is that there are natural remedies to help unblock the nose without having to rely on decongestants. Let's go over how to naturally unblock the nose while dealing with a cold.
The Humidifier Is Needed
One thing to do is to use a humidifier, especially while sleeping because the moisture will help to soothe irritated inflamed blood vessels. The humidifier helps to keep the room moist and that will help to keep you as comfortable as possible. You will want to keep several of them around in your home and office where you work. However, you will want to also keep the levels low enough to not have to worry about mold growth.
Drink Plenty Of Water
You want to stay hydrated, and that means when you have a cold, you will want to make sure that you drink up. Sip on some soups, herbal tea, and other clear liquids. That will help to keep the mucus levels thin and clear them out of your nose, which can help to lead to the vessels not being so inflamed.
Stay With Plenty Of Steam
You want to keep yourself exposed to a lot of steam as that will also help to keep mucus thin but also reduce the inflammation in the blood vessels. That means you will want to take very warm showers to help do that for you. You can also fill up the sink with hot water or put hot water in a bowl, and put a towel over your head so you breathe in the steam. Take deep breaths in the steam but do not make it too hot or else you will burn your face.
Use A Saline Spray
You will want to consider using a saline spray which is saltwater. That will help to keep moisture in your nose. However, you also want to make sure that you don't get saline sprays with decongestants, or else that will take the cold longer to clear. The best thing to do is to get a natural saline spray without any decongestants.
Use A Neti Pot
A neti pot is not fun to use by any means. However, it can work well. That involves using a container to flush away mucus as well as other fluids from your nose. You spray the water up through one nostril and it comes out of the other. That is an excellent way to flush anything out. Make sure you use sterilized water because if not, organisms can be in the water which can cause brain infections and that can be fatal.
Colds are miserable to deal with even if it is mild, and they can get into the way of your productivity. However, if you use any of these natural ways to unblock your nose, you will feel better and some relief even during the roughest times of your cold.